Product data management technology for industrial distributors to scale and improve customer experience
If you're looking to digitally transform your distribution business, you need a technology-enabled approach where all departments work hand in hand to guarantee the best possible quality for your product data. That is, its uniformity, accuracy, reliability and, above all, governance. In a nutshell, you're aiming for smooth ingestion of product data, adding value to that data internally and then pushing it through your channels to the customer. When your product data is consistent, all-inclusive and up to date, you're not only in the right place to capitalise on increased revenue opportunities. You can also scale and grow your business speedily and flexibly.
PIM: Optimising the Product Data Journey
Digitally savvy operators in the industrial distribution sector see how using excellent product data helps them to stand out. Onboarding, enriching, and delivering valuable data content enhances the customer experience. 
The enabler is technology. If your business needs, activities and strategies are clearly defined, an astutely chosen and strategically implemented PIM solution will cover a large range of your business data processes as it travels through the enrichment process.
The following are specific examples of these improvements and how the quality of the product data management leads to increased business;
Onboarding: The supplier-vendor relationship is smoothened using a PIM onboarding portal. These facilitate supplier compliance with content protocols as well as allowing ingested supplier product data to be standardised.
Centralisation and governance: In too many cases, it's IT which takes the lead (by default or by design) on master data management (MDM). What a PIM provides is a repository for all product content which involves all areas of the organisation in a coordinated and integrated way. Product data governance tools determine high standards of quality and consistency while at a tactical level, TTM for new items can be shortened due to efficient data deployment.  This all adds a company-wide agility enabling rapid responses to the demands of a constantly evolving digital marketplace. Thus, you have generated a golden product record for each individual product – underpinned by a data governance framework, the user can be entirely certain that it is a complete, accurate and up to-date data set.
Content creation and enrichment: a PIM offers a user interface which permits the creation of product content, product experiences, search tags and more. These are unique to each market segment and channel. Enrichment tools can convert product content from the merely required to the positively engaging. Enriched content adds tangible value by offering a product experience which will influence purchasers positively.
Distribution: PIM tools distribute a portfolio of product information to an ever-growing range of e-Commerce endpoints; websites, mobile devices, touchscreens internet-connected devices or marketplaces. PIM tools interpret and execute the unique content requirements of each channel and also push content to reseller platforms.
Scaling your product offer
Digital markets offer potentially enormous space for sellers to populate their product information. As industrial customers have neither the time nor the inclination to scroll through extensive but unwieldy volumes of product information, high-quality eCommerce platforms stand out by using product data intelligently. That means easier navigation and varied, concise, yet essential product information.
The reality is that the product you distribute isn't necessarily the final version of that product. As markets evolve, products go through iterations. Scalability enables these evolving products to stay aligned with their markets. By having an adaptable and versatile product information management system, the business is in an ideal position to scale rapidly as new products, versions and variants emerge. These capabilities are embedded in PIM technology, so the product data is inherently more stable, sustainable and reliable. A high-quality and adaptive system can make small but significant changes which anticipate and respond to what your customers need. That, in turn, leads to sustainable growth.
Driving excellent customer experience
In terms of keeping satisfied and loyal customers, buyer expectations have never been higher. Offers of free shipping and easy returns have inevitably increased costs for many distributors. Minimising returns is one way how PIMs can add value to the customer experience if what they get the first time is what they need. Added to that, they;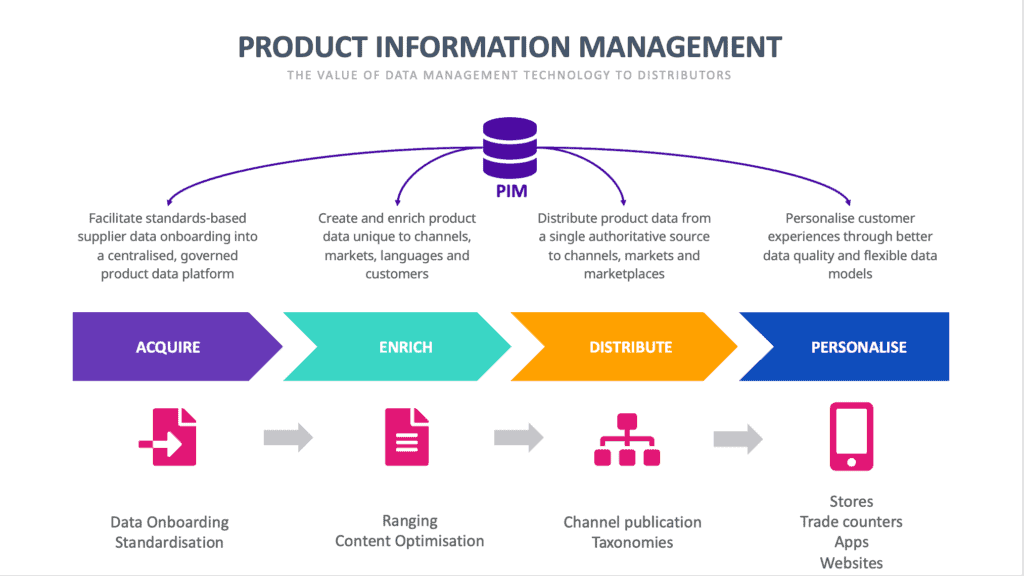 Product data management technology is constantly innovating. What it will always ensure is that you have one single source of truth for each product. This means greater efficiency in ingesting, processing and enriching product data. But most importantly, it eliminates any data inconsistencies among your various marketing channels and customer touch points, making your product offer much more customer centric.