Riversand Partner for PIM Integrations & Consulting
Start with Data is an official PIM partner with Riversand, a visionary cloud-native SaaS, MDM, and PIM platform. Working closely together, we implement the Riversand platform, helping our clients accelerate time to market, boost sales and enhance their customer experience.


Riversand is a cloud-native platform offering a range of solutions for Master Data management, PXM and CXM. It is recognised by Gartner as a leader in Master Data management solutions and by Forrester as a leader in product Information Management.
Its flagship is the Master Data Experience Platform (MDxP), which allows customers to leverage product data through automation, intelligent insights, and multi-domain SaaS solutions. It drives the digital transformation journey for its customers by enabling improved business agility, faster adoption and improved collaboration company-wide. 
The Riversand platform offers a unified platform which can deliver wrap-around PIM, MDM and PxM services in one place. With a proven track record, it provides a multi-layered Master Data Experience Management (MDxM) platform designed to help future-proof any product-centric business. That means the freedom to grow, expand, and scale without the technological headaches that have traditionally hampered these aims.
The Riversand platform is built on a four-layer model:
Apps: businesses can customise Riversand platform to their needs. Custom apps can easily be created using Riversand's SDK (Software Development Kit). The platform adds value for businesses, rather than obliging them to pay again and again for unscalable modifications.
Experience: Businesses can deploy the experience Layer to provide customers, consumers, suppliers, distributors, and partners with an optimal experience, while increasing searchability.
Governance:  it is the quality of intelligence that helps businesses make the right decisions at the right time. That reliability is based on what kind of data it gathers. This layer enables businesses to establish reliable data governance and stewardship, essential for the foundation of effective decision-making processes.
Master Data Experience: the platform is built on a flexible base layer that handles multiple domains with built-in analytics, providing actionable insights to business users at all levels, and guaranteeing IT and security compliance.
It offers, among others, the following features;
Cloud-native, multi-domain: built from the ground-up for elastic scale and to handle structured and unstructured data

Workflows; automated, robust, and seamless, to enable collaboration

Smart category-based templates; pre-validated to your exact requirements, to offer ease of content mapping

Connectors; a continually-growing breadth and depth of connectors to a growing number of endpoints

Dynamic data governance; balancing speed of onboarding versus quality of content
Business rules engine; robust and flexible, and capable of validating and automating any content to its contextual needs

Complete visibility of product content: from attributes, to digital assets, to product relationships, and more

Innovative UI; user-tested for multiple roles

Data privacy: compliant with and certified across multiple global certifications
Our Riversand PIM solutions
As a unified entity, Riversand's platform offers the benefits of a PIM within a wrap-around MDM solution. Start with Data, as official Riversand partner, works together with them to ascertain your requirements and the specific configuration of the platform which will satisfy those needs.
The Riversand Vendor Portal connects a business's vendor community to a simple self-service interface allowing them to upload data simultaneously for easy onboarding and new product introductions. It offers the following major benefits:
A single onboarding platform for product content & digital assets

Built-in workflow processes

Full PIM Integration

A 360º Vendor Overview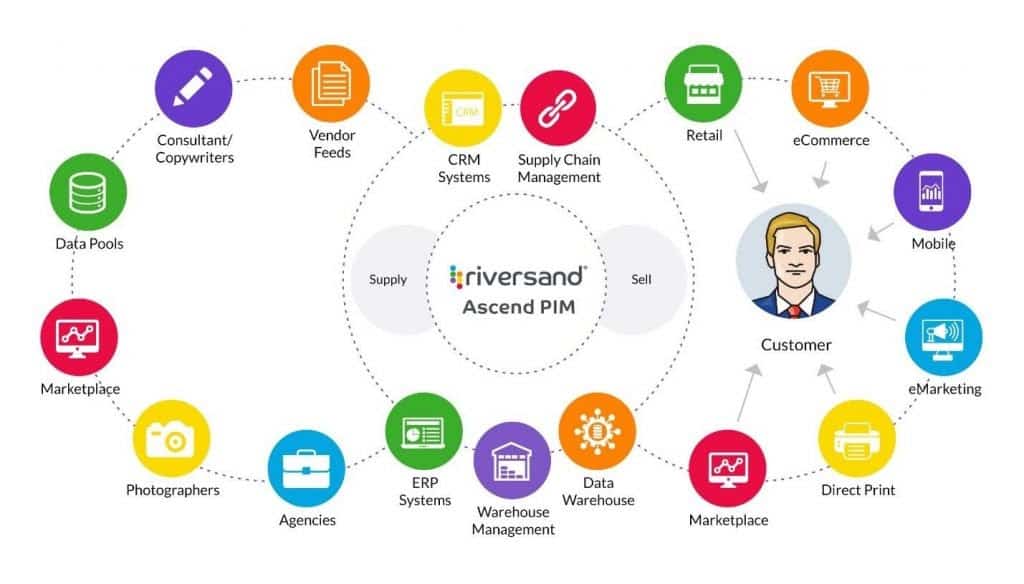 Riversand has extensive experience in the operational and support aspects of data migration. Alongside their partners, they always carry out pre-migration activities such as general guidelines, data grooming, and creation of guidelines. They also configure the migration tool and migration process. Once completed, they issue a post-migration report.
As official Riversand partner, we ensure that migration planning and preparation is fully aligned with the client's requirements and that there will be no unexpected setbacks during the ETL process.
Integration and interoperability is central to Riversand's MDM platform. It is deployed alongside existing stacks so that businesses can maximise its potential;
eCommerce – full integration with all eCommerce platforms
Marketplaces – the PIM capabilities of the Riversand platform enable businesses to publish product data directly to online marketplaces
Data Aggregation – to increase efficiency of data import and aggregation, the MDM solution is integrated with data aggregation software
Simple Integrations – a platform which is built to enable easy (single integration point and open APIs) integrations can easily connect with other software platforms that businesses rely on, reducing its complexity (and the costs of IT support)
Benefits of Riversand PIM integration and consulting with Start with Data
Start with Data is a key Riversand consulting, implementation and system integration partner in the UK and Europe. We help retailers and distributors shape and deliver Riversand PIM and MDM implementations to create value for businesses and their customers.
Implementing a Riversand platform will give you the competitive advantage of better-quality, complete product data as well as fast, efficient business processes and workflows.
Retailers and distributors rely on us for the handling, analysis and implementation of complex data relationships and data modelling which is needed for a successful PIM implementation. We bring our years of experience and proven methodology to every Riversand project. As official Riversand partners, we are uniquely positioned to integrate Riversand PIM and MDM solutions which will improve the quality and consistency of your product data. This will bring better CX, bottom-line results and greater growth opportunities through ease of scalability.
1. Consulting and implementation
2. Support and maintenance
As an official Riversand partner, we would be happy to talk to you in detail about what your product information pain points are and how we can work with you to provide solutions.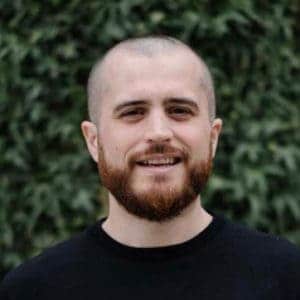 If you would like to find out more about how product data management, PIM and MDM can create value for your business, we'd love to hear from you – Ben Adams, CEO Start with Data
Case Study
"Start with Data are helping transform product data management, laying scalable technology and data governance foundations"